When a football game is played in Madrid, it is practically impossible not to notice the party atmosphere and euphoria in the streets.
The famous teams are Real Madrid, Atlético de Madrid and Rayo Vallecano. We are talking, no less, about the top three clubs in the city's century-old football history since their respective creations in 1902, 1903 and 1924.
There is a perfectly traced diagonal between the location of these three football fields that crosses the city from north to south, from the well-known area of Chamartín (Santiago Bernabéu), through the San Blas district (Wanda Metropolitano), until reaching one of the most working-class neighbourhoods in Madrid (Vallecas Stadium).
Monuments related to football victories
Each team has a specific fountain in the city where celebrations are held when the club wins. This is a friendly nod towards Madrid's architecture that generates high expectations in the tourism sector.
The Cibeles fountain represents the capital's main team, Real Madrid. Atlético de Madrid's celebrations are held at the nearby Neptuno fountain, and Rayo Vallecano fans celebrate their victories at the fountain of the Assembly of Madrid. These fountains have therefore been witness to a multitude of classifications and titles.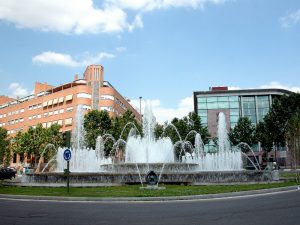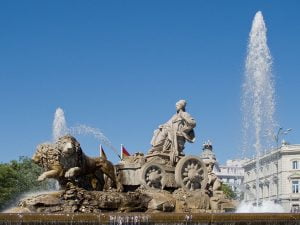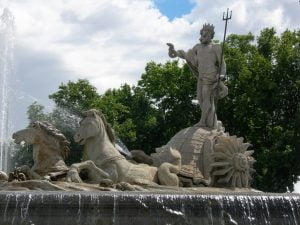 Beyond local rivalries, it is worth noting that Plaza de Colón has for some time been viewed as the nerve centre of celebrations for the Spanish Football Team.
If you are in Madrid, you can't leave without visiting these emblematic sites that make history in our city year after year.
Art and Culture also in sports
Passion for football is an intrinsic part of the atmosphere in the capital city of Madrid.
Stadium tours have become one of the most popular activities in the world of football tourism, as they offer services such as guided visits where you can learn all about the history and interesting facts of each club, while experiencing their facilities first hand.
It is also worth mentioning that no football fan leaves the city without having bought one of their team's official products.
The shops where these purchases can be made are located at Arenal 6, Gran Vía 31 and Carmen 3, in the case of Real Madrid Club, and Gran Vía 47 and Plaza Río 2 shopping centre for Atlético de Madrid.
The Madrid Wax Museum is another must-visit on your football tour. There you can find statues of major football stars such as Iker Casillas, Cristiano Ronaldo, Andrés Iniesta, David Villa and Fernando Torres, among others.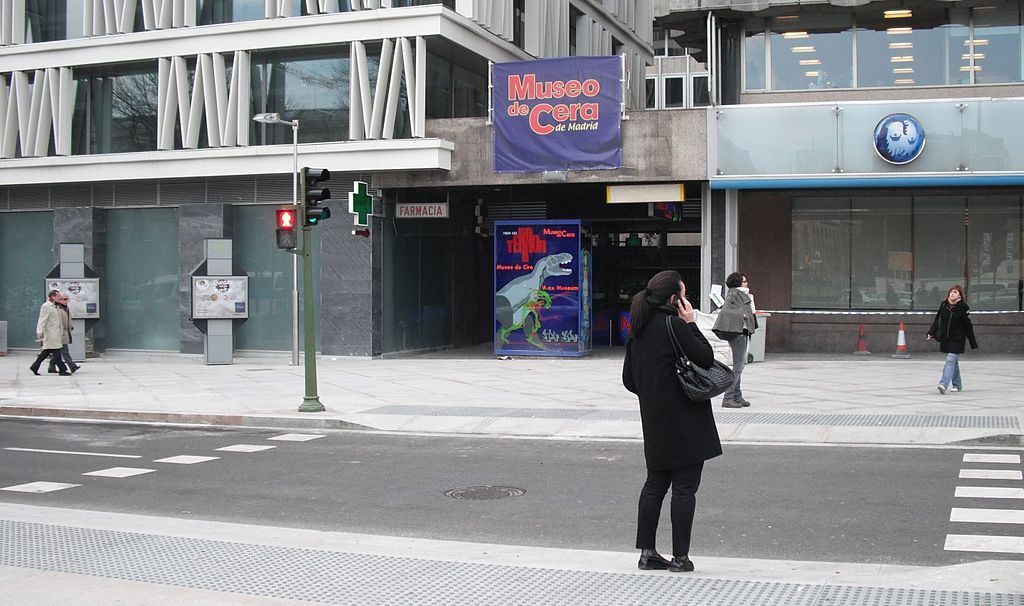 This stop is well worth it for football fans. Taking photos with your wax idols is always a real highlight of your trip.
Football culture can be found in every corner of this country, which is why we also have legendary sites to visit outside the borders of the city of Madrid.
We will mention the most important site on the outskirts of the capital, in case you have the chance to visit. Our goal is to always provide our customers with the most detailed information as possible so that they know about absolutely everywhere they can visit while in Madrid.
The Museum of the Spanish Football Team is located only thirty minutes from the city centre, specifically at the Ciudad del Fútbol sports ground in Las Rozas, housed behind a modernist football gate that dates back to 1900.
This visit will round off a fantastic tour through the country's football history.
Football and cuisine
There is a strong connection between Madrid's bar and restaurant industry and sports. This interesting connection significantly fosters the passion for football.
In numerous bars in the centre of Madrid, local football fans and foreign fans from across the world come together in great numbers to watch and celebrate Champions League and Europa League games.
Madrid on football days is a true sight to behold.
Asador Donostiarra and Mesón Txistu can be mentioned as two of the most important bars in this respect. They are frequented by Real Madrid staff and managers, and it is also possible to find groups of fans from practically all the teams in the Spanish league.
World Football Summit
The World Football Summit 2019 will be held in Madrid on 24 and 25 September. As all fans of this sport know, the event will bring together a large number of business people with significant influence in the world of football. Like every year, the event opens up a wide debate on the future of this historic sport.
It is a worldwide convention on the football industry. Over the course of these two days, Madrid will take centre stage in relation to this major industry. It is a real magnet for the best exponents of today's football scene. It serves as a factory for generating business opportunities, always supported by Brand Spain.
Several high added value conferences will be held during the summit, in which topics of great interest in relation to the industry will be presented and debated, such as the management of sports entities, investments in football clubs, smart stadiums, and many more.
WFS will be hosted this year at the Goya Theatre, on calle Sepúlveda, 3, in the Puerta del Ángel area, very near to Madrid Río.
Now that you know more about the football culture in Madrid, are you ready to discover the city's history and amazing cuisine? If the answer is YES, then book a tuk tuk tour. These fun and 100% electric vehicles are definitely a cool way of getting to know all about the Spanish capital. Are you ready?