The Spanish capital offers a varied and high quality gastronomy at very affordable prices and, with so many delicious places available, it would be a real shame to end up somewhere mediocre due to lack of guidance.
Local Tuk Tuk always dedicates some time to writing articles that can help visitors to the city, ensuring your trip is a success.
Providing recommendations is no trouble at all and the reward of an enjoyable trip is highly gratifying.
As we all know, the most typical dishes in Madrid are Cocido Madrileño, a chickpea-based stew, and traditional Squid Baguettes for more informal plans.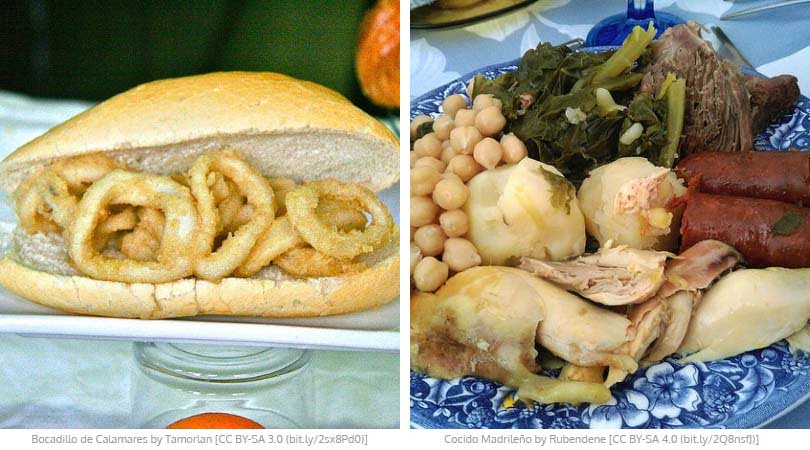 We would personally recommend that you try them at Café de Chinitas, in the case of the stew, and at La Campana for a top quality squid baguette. Both places boast a central location and we believe, without a doubt, that their fame is all down to the quality of their products.
Besides these popular restaurants, it is also worth mentioning the city's gastronomic markets, which are definitely worth a visit to enjoy food from around the world while also visiting interesting venues such as The Railroad Museum, San Antón Market, San Miguel Market and La Cebada Market.
At all of them, you can try a wide range of delicious Spanish food at an affordable price and in a unique setting. This recommendation is something that is maybe not commonly known by tourists, which is why at Local Tuk Tuk we want to give you these proposals from a more local perspective, based on the motto that motivates us: "Come as a tourist, leave as a local".
If you love more specific dishes, we have two very interesting proposals for you.
Madrid is home to one of the best chains of Peruvian restaurants. From Peru itself, Jhosef Arias provides an exciting gastronomic offer.
He already has three active restaurants in Madrid, Piscomar, Callao 24 and Capón. Jhosef 's innovation in Peruvian cuisine knows no limits. If you really appreciate this type of food, don't miss out on the experience of visiting any of these three restaurants.
We also have a recommendation for those who prefer Japanese food in Madrid. In our opinion, the best restaurant focused on this type of cuisine is ART&SUSHI.
In this restaurant, you can try true Japanese delicacies while enjoying the pieces of art displayed on the restaurant's walls, which are available to buy at the restaurant itself if you fancy any of them.
We hope you have found this article, about the food in Madrid, helpful.
We are also available for any other type of query or help you may need. We have a team of professionals who know every corner of the city and who would be delighted to make your trip easier for you.
At Local Tuk Tuk we can personalise the tourist routes available and always try to ensure that our customers enjoy the places that are worth visiting first hand.
Your adventure is our success.